750.000 "King George & Queen Elizabeth Diamond Stakes" 2.400m

1 Doyen (IRE) 4 / L Dettori 11-10 fav
2 Hard Buck (BRZ) 5 / Gary Stevens 33-1
3 Sulamani (IRE) 5 / K McEvoy 7-1
4 Gamut (IRE) 5 / K Fallon 12-1
5 Vallee Enchantee (IRE) 4 / O Peslier 6-1
6 Tycoon 3 / J P Spencer 16-1
7 Bandari (IRE) 5 / R Hills 12-1
8 High Accolade 4 / J Murtagh 25-1
9 Warrsan (IRE) 6 / D Holland 13-2
10Phoenix Reach (IRE) 4 / Martin Dwyer 33-1
11Lunar Sovereign (USA) 5 / T E Durcan 100-1
pobeda 2.2 / dubl po redu 63.0 / triling po redu 56.6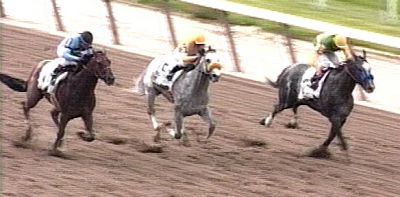 Belmont Stakes 97: Touch Gold / Free House / Silver Charm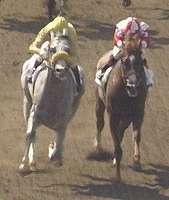 Bye Free House... Trećeplasirani u sve tri trke za triplu krunu '97, Free House (Smokester - Fountain Lake / Vigors) je podlegao povredama glave na svojoj farmi Vessels Stallion Farm u Kaliforniji gde je od 2000. smešten kao pastuv. Incident se dogodio na Bonsall Farm. Dvostruki nosilac titule konja godine Kalifornije je u prve dve trke za triplu krunu poražen od Silver Charma, da bi i u trećoj stigao kao trećeplasirani, kada je Silver Charm u samom cilju izgubio ulaznicu u kuću slavnih od Touch Gold-a. Inače, Free House je pre trka za triplu krunu dva puta porazio svog arhi-rivala dobivši "San Felipe Stakes" i "Santa Anita Derby", kao i 1999 kada je bio bolji u dobivši "Santa Anita Handicap". Od velikih trka dobio je još i "Pacific Classic" 1998(na slici levo u duelu sa Gentlemen-om, braniocem trofeja iz 1997). U 22 starta zabeležio je 9 pobeda uz zaradu $3,178,971. Posetite...>>
Belmont Park, NY: $300,000 "Bowling Green Handicap" dobio Kicken Kris
Monmouthpark, NJ: $100,000 "Branch Breeders' Cup Stakes" prva pobeda u 2004 za Lion Heart-a koji je bio bolji u finišu od My Snookie's Boy.

Delaware Park: 17.jul bet4fun world wide / 5
$100,000 "R.R.M. Carpenter Jr. Memorial Handicap" 2.000m
1. Angelic Aura (N.Arroyo) 1:43.48 3.2
2. The Lady's Groom (J.Velasquez)
3. Supah Blitz (C.Velasquez)
4. Country Be Gold (R.Alvarado)


5.Loving 6.Donald's Pride
nisu startovali: Cherokee's Boy, Eye of the Tiger, Private Lap
dubl po redu 5.5 / triling po redu 15.2

Hollywood Park: nedelja 02:40 3.jul

bet4fun

world wide / 4
$750,000 "Hollywood Gold Cup" 2.000m Gr-1 3+g.
1.Total Impact(CHI) (M.Smith) 2:00.72 7.7
2. Olmodovar (A.Solis)
3. Even the Score (D.Flores)
4. Yessirgeneralsir (O.Figueroa)
5.Royal Moro 6.Gift of the Eagle 7.Continental Red
dubl po redu 14.4 / triling po redu 27.4

"Swaps Stakes" 1.800m
1.Rock Hard Ten (C.Nakatani) 1:47.47 1.6
2. Suave (R.Berajano)
3. Boomzeeboom (V.Espinoza)


4.Capitano 5.Brands Hatch 6.Bear in the Woods
dubl po redu 2.3 / triling po redu 5.6

Belmont: 3.jul bet4fun world wide / 3
$500,000 "Suburban Handicap" 2.000m 3+g.
1. Peace Rules (J.Bailey) 1:59.52 4.2
2. Newfoundland (R.Velasquez)
3. Funny Cide (J.Santos)
4. Colonial Colony (R.Bejarano)
5.Sarava 6.Dynever 7.Bowman's Band 8.Devil Time
dubl po redu 32.2 / triling po redu 99.2
hipo kare po redu 1061.5

Hollywood Park: 3.jul /turf/
$750,000 "American Oaks" 2.000m 3+g./ž/>>
1. Ticker Tape(GB) (K.Desormeaux) 2:01.54 13.0
2. Dance in the Mood (Y.Take)
3. Hollywood Story (D.Sorenson)
4.WesternHemisphere 5.Amorama(FR) 6.MamboSlew 7.Boulevardofdreams(NZ) 8.EternalMelody(NZ) 9.MistyHeights(GB) 10.WesternRansom 11.SteelPrincess(IRE) 12.LovelyRafaela 13.FrenchLady (NZ)
dubl po redu 23.8 / triling po redu 249.2
hipo kare po redu 2337.2

Jockey Club je registrovao 8 novih grla kojima je kumovala "Smarty Mania". Prvo grlo je od Smarty-jevog oca Elusive Quality, Party Jones. Ostala imena su: Sleepy Jones, Smarty Me, Like Smarty, Smarty Who, Smarty Dee, Smarty Joe, Smarty Brown. Pre nego se "Pametnjaković" pojavio na sceni, već su trčali: Smarty atthe Party, Smarty Cat, Smarty Pants i Smarty Smarty. Vlasnik Pat Chapman je izjavio da se nada da će po koje ime preostati i za njih kada Smarty ode u priplod...

Smarty Jones će po povlačenju iz trka biti smešten na "Three Chimneys Farm". Tu je bio takođe smešten i Seattle Slew, a među žiteljima su i Silver Charm(KyDerby,Preakness 1997 - $25,000 po ždrebetu), Point Given (Preakness, Belmont Stakes 2001 - $10,000) i najskuplji pasuv SAD Storm Cat - $500,000). Transfer se ceni na oko $35M do $40M, stim da će dosadašnji vlasnik Champan zadržati 50% akcija. Uz to idu i uslovi da Smarty neće dalje biti prodat van SAD, da neće biti u pripustu na južnoj hemisferi, kao i da će biti omogućen besplatan pristup posetiocima, naravno uz prethodnu najavu.

Curragh:
"Budweiser Irish Derby" Group One, 2.400m
1 Grey Swallow (P Smullen) 10-1
2 North Light (K Fallon) 8-11f
3 Tycoon (C O'Donoghue) 150-1
4 Rule of Law 5 Let the Lion Roar

Favorit Nort Light(Epsom Derby) nije uspeo da odbije napad u poslednjih 400m i Grey Swallow je sa pola dužine podario svom treneru Dermotu Weldu drugu pobedu u irskom derbiju. Pre osam godina, slavio je sa grlom Zagreb.
"I've always believed in this horse. There were doubts about him staying a mile and a half, but he worked superbly the other day and I knew I had him in good form.trener Dermot Weld(Grey Swallow) This was a very good Derby and an extra special win as he was bred by my mother, who also owns part of him."
``I knew he had the speed to beat them if he stayed the trip and that's how I rode him,'' jahač Pat Smullen(Grey Swallow) ``When we started to make our challenge I knew that we would be able to outspeed them. I'm more happy for him than I am for me. All he wanted was a little bit further. He's a champion"'

Belmont:
$300,000 "Mother Goose" 1.800m Gr-1
1. Stellar Jayne (R.Albarado) 1:48.13 30.7 21/2d
2. Ashado (J.Velasquez)
3. Island Sand (T.J.Thompson)
4.Miss Coronado 5.Daydreaming 6.Society Selection
dubl po redu 73.2 / triling po redu 193.2

Ovo je prva od tri trke za NYRA triplu krunu omica. Druge dve trke su "Coaching Club American Oaks" (Belmont Park 24.jul) i "Alabama" (Saratoga 21.avgusta).

Belmont:
$300,000 "Odgen Phipps Handicap" 1.700m
1. Sightseek (J.Bailey) 1:41.46 3.4
2. Storm Flag Flying (R.Velasquez)
3. Passing Shot (R.Migliore)
4. Azeri (P.Day)
dubl po redu 9.2

Suffolk Downs: bet4fun
$500,000 "Massachusetts Handicap" 1.800m
1. Offlee Wild (E.Prado) 1:49.14 4.2
2. Funny Cide (J.Santos)
3. The Lady's Groom (H.Karamanos)
4. Gygistar (J.Bravo)
5.EveningAttire 6.Sarava 7.RogueAgent 8.Basil'sRhythm 9.OntheGame
Trči se od 1935 i najveća je trka u državi New England. Ovu trku su trčali i Seabiscuit, War Admiral, John Henry i Cigar.
Prošlogodišnji pobednik "Holy Bull Stakes" je posle duge pauze i gotovo prekinute karijere u neizvesnoj trci i trčanju glava-glava čitavim pravcem sa favoritom Funny Cide i The Lady's Groom došao do pobede.
Mass Cap se trči od 1935 i najveća je trka u državi New England. Ovu trku su trčali i Seabiscuit, War Admiral, John Henry i Cigar.
``The race set up perfect,''džokej Edgar Prado(Offlee Wild)``It was just a matter of finding room to get home. And he just kept on digging.''
``He was a dead horse. When we picked him up, he had no life in him,'' trener Richard Dutrow(Offlee Wild) ``I'd go into his stall and he just didn't care. But after six or eight weeks ... he started showing a lot more signs of life. Whenever you pick up horses, that's what you want to see.''
``It was a great horse race. That's all you can say,'' sopstvenik Jack Knowlton(Funny Cide) ``By any definition, he raced well. We're pleased. He showed us that he can still run with very good horses.''

Ascot: bet4fun
"The Golden Jubilee Stakes" 1.200m
1. Fayr Jag (W.Supple) 1:13.35 12-1 gl.
2. Crystal Castle (K.Fallon) 8-1 gl.
3. Cape of Good Hope (M.Kinane) 13-2
4. Airwave (D.O'Neill)
5. Avonbridge (S.Drowne) 10-3 fav
``I am speechless. I have lost my voice from shouting,'' sopstvenik Jonathan Gill ``Fayr Jag was a good 3-year-old but injured himself towards the end of that year. We thought that he might need another run before today but he has been unbelievable.''

Ascot: - Fillies Triple Crown -
"Coronation Stakes" 1.609m
1 Attraction (K Darley) 6-4 Fav
2 Majestic Desert (T E Durcan) 25-1
3 Red Bloom (K Fallon) 10-3
Attraction, omica koja je dobila English & Irish 1000 guineas slavila je sa 21/2 dužine u "Coronation Stakes", neporažena u osam startova.
"People keep saying she's a freak... she keeps breaking all records" jahač Kevin Darley
``When she turned for home they were all trying to go after her, but she hadn't even started going yet,'' trener Mark Johnston``She is definitely the classiest horse I have trained. That is eight wins and three Group Ones in a row. I have had nothing to compare with her and I don't think many trainers have.''
``To come here and complete the fillies' triple crown -- the two Guineas and now this, and to do it as easy as she did, I'm speechless,'' vlasnik Duke Of Roxburghe

Royal Ascot: "Prince of Wales Stakes" 2.000m
1 Rakti (P.Robinson) 3-1 2d
2 Powerscourt (J.P.Spencer) 9-2 1d
3 Ikhtyar (R.Hills) 8-1 1/2d
favorit: Sulamani 11-4
Rakti je prošle godine u "Prince of Wales Stakes" u samom finišu izgubio prvo mesto od Nayef-a, da bi potom dobio "Champion Stakes" oktobra, pre starta u "Hong Kong Cup"-u. U svom prvom startu ove godine, slavio je sigurno sa dve dužine. "I'm lucky to have had some good horses in my career, but he would be the best 10-furlong horse I've had and I think he could win a good mile race," trener Michael Jarvis

$750,000 "Stephen Foster Hand." 1.800m
foto finiš 1/2 njuške
1. Colonial Colony (R.Bejarano) 1:50.4 63.6
2. Southern Image (V.Espinoza)
3. Pefect Drift (P.Day)
4. Peace Rules (J.Bailey)
5. Best Minister (B.Blanc)
6. Midway Road (R.Albarado)
dubl po redu 174.1 / triling po redu 632.1
hipo kare po redu 1469.2

Prvi favorit i lider trke Southern Image nije uspeo da odbije napad autsajdera Colonial Colony koji je u cilju bio bolji za pola njuške. Ovo je tek četvrta pobeda u 29 startova i prva u 11 startova na Churchill Downs za 6g.-og sina Pleasant Colony>> sa ukupnom zaradom od $502,665. Ovo je prvi poraz za Southern Image posle 5 pobeda, od kojih su poslednje tri Gr-1 trke; ukupan skor mu je 6 pobeda u 8 trka.
``He was going so fast around such good horses that it stunned me,'' trener Walter Bindner (Colonial Colony) ``I was never confident at all until the photo came in.''

Chantilly - francuski derbi -
"Prix du Jockey Club" 2.400m €1,100,000
1. Blue Canari (T.Thulliez) 34.2
2. Prospect Park (O.Peslier)
3. Valixir (E.Legrix)
4. Day Flight (R.Hughes)
5. Ange Gardien (C.Soumillon)
dubl po redu 74.1
triling po redu 168.8 HIP / 1128.3 PMU
hipo kare po redu 4311.2 PMU
Quinte+ PMU
po redu 13860.0 / bez reda 115.5

Medaglia d'Oro je prodat u priplod i više neće trčati. Ovaj sjajni trkač je u 17 startova zabeležio više Gr pobeda (Jim Dandy, Travers, Donn Handicap, Oaklawn Park Handicap, Donn Handicap, Strub Handicap, San Felipe), a čak je 15 puta bio plasiran na prva dva mesta. U karijeri sin El Prado-a je zaradio $5,754,720. Na farmi Hill 'n' Dale će se pridružiti takvim imenima kao što su: Theatrical, Jade Hunter, Vindication, Buddha, Mongoose, El Corredor i Vision and Verse. Suma nije objavljena, ali ni potpuno utvrđena, već će se dogovor postići do jeseni.

"He's a wonderful race horse, has been a great racehorse for 3 years," John Sikura, vlasnik Hill 'n' Dale Farm. "He's a big, magnificent individual, and to stand a horse of those credentials you have to be excited at the reception we expect to get from breeders. We're aggressively looking for well-conformed, excellent racehorses, and he's one of those horses. It'll be good value for breeders, but it will also reflect the achievements and significance of the horse,"

"I'll miss him," trener Bobby Frankel "I'm hoping this guy can take his place. Medaglia d'Oro is a great horse who tried really hard all the time."
| | | | |
| --- | --- | --- | --- |
| Date | Race | Track | Finish |
| March 27, 2004 | Dubai World Cup | Nad Al Sheba | 2nd |
| Feb. 7, 2004 | Donn Handicap | Gulfstream | 1st |
| Oct. 25, 2003 | Breeders' Cup Classic | Santa Anita | 2nd |
| Aug. 24, 2003 | Pacific Classic | Del Mar | 2nd |
| Aug. 2, 2003 | Whitney Handicap | Saratoga | 1st |
| April 5, 2003 | Oaklawn Handicap | Oaklwan | 1st |
| Feb. 1, 2003 | Strub | Santa Anita | 1st |
| Oct. 2, 2002 | Breeders' Cup Classic | Arlington | 2nd |
| Aug. 24, 2002 | Travers | Saratoga | 1st |
| Aug. 4, 2002 | Jim Dandy | Saratoga | 1st |
| June 8, 2002 | Belmont Stakes | Belmont | 2nd |
| May 18, 2002 | Preakness | Pimlico | 8th |
| May 4, 2002 | Kentucky Derby | Churchill | 4th |
| April 13, 2002 | Wood Memorial | Aqueduct | 2nd |
| March 17, 2002 | San Felipe | Santa Anita | 1st |
| Feb. 9, 2002 | Maiden Special Weight | Oaklawn | 1st |
| Dec. 7, 2001 | Maiden Special Weight | Turfway | 2nd |

Epsom Oaks (2.400m)
1. Ouija Board (K Fallon) 7-2
2. All Too Beautiful (JP Spencer) 11-4f
3. Punctilious (L Dettori) 100-30
7 - 3½

"We didn't know whether she would stay, but Kieren gave her a great ride, she got home well and won like a champion," trener Ed Dunlop. "I watched my father John train a Classic winner but to do it myself is amazing." Kieren Fallon-u je ovo treća pobeda u "Epsom Oaks"

Coronation Cup (2.400m)
1. Warrsan (D Holland) 7-1
2. Doyen (L Dettori) 9-2
3. Vallee Enchantee (D Boeuf) 6-1
1¾ - kr.glava

Vodafone Group Services Handicap (1.400m)
1. Makfool (TE Durcan) 9-1
2. Mandobi (K Fallon) 14-1
3. Fancy Foxtrot (MJ Kinane) 40-1
4. Mister Saif (P Dobbs) 20-1

Princess Elizabeth Stakes (1.700m)
1. Gonfilia (L Dettori) 11-10f
2. Kunda (R Hughes) 20-1
3. Qasirah (P Robinson) 20-1
2½ - 1

Rose Bowl (1.800m)
1. Persian Lightning (MJ Kinane) 11-2
2. Desert Quest (Martin Dwyer) 20-1
3. Shahzan House (P Robinson) 9-2f
glava - 3

Epsom Mile (1.700m)
1. Uhoomagoo (N Callan) 7-1
2. Alrafid (RL Moore) 7-1
3. Definite Guest (P Hanagan) 20-1
3 - 1½

Temple Stakes (1.000m)
1. Night Prospector (JP Murtagh) 33-1
2. Autumn Pearl (P Robinson) 10-1
3. Bishops Court (L Dettori) 3-1f
1¼


Vodafone Derby Stakes (2.400m) bet4fun
1. North Light (K Fallon) 7-2jf
2. Rule of Law (K McEvoy) 20-1
3. Let the Lion Roar (M Kinane) 14-1
4. Percussionist (K Darley)
1½ - glava
Salford City (5), American Post (6), Snow Ridge (7), Hazyview (8), Pukka (9), Gatwick (10), Massif Centrale (11), Coming Again (12), Elshadi (13) , Meath (14)

North Light dobio Epsom Derby. Posle jučerašnje pobede u Oaks, Kieren Fallon ponovo slavio. On je prvi jahač koji je dobio dva derbija zaredom još od 1979-80. kada je Willie Carson slavio sa grlima Troy i Henbit.

Vodafone Stakes (1.200m)
1. Native Title (P Hanagan) 11-1
2. Mutawaqed (J Murtagh) 8-1
3. Lafi (Alex Greaves) 14-1
4. Jayanjay (K McEvoy) 16-1

Vodafone Rated Stakes (2.400m)
1. Starry Lodge (K Fallon) 9-2
2. Swift Tango (L Dettori) 7-2f
3. Zibeline (K McEvoy) 12-1

'Dash' Stakes (1.000m) Thriller Race!!!
1. Caribbean Coral (R Winston) 20-1
2. Plateau (M Hills) 25-1
3. Tychy (JP Spencer) 20-1
4. Texas Gold (Martin Dwyer) 16-1
kr.glava - glava - vrat

Diomed Stakes (1.700m)
1. Passing Glance (Martin Dwyer) 20-1
2. Dutch Gold (D Holland) 33-1
3. Gateman (K Dalgleish) 8-1
11 ran. Dist: 1¼, hd

Woodcote Stakes (1.200m)
1. Screwdriver (R Hughes) 7-2
2. Royal Island (K Dalgleish) 6-5f
3. Gortumblo (T Quinn) 12-1
8 ran. Dist: nk, 4

Live! Stakes (1.800m)
1. Lord Mayor (K Fallon) 11-2
2. Royal Warrant (Martin Dwyer) 16-1
3. Mystical Girl (D Holland) 10-1
4. Dancing Lyra (T Quinn) 6-1
18 ran. Dist: 1¾, hd
$750,000 "Metropolitan Handicap" 1.609m
1. Pico Central(BRZ) (A.Solis) 1:35.47 3/4d 4.5
2. Bowman's Band (J.Chavez)
3. Strong Hope (J.Velasquez)
4. Gygistar (J.Bravo)
5.Funny Cide 6.Saarland 7.EyeoftheTiger 8.Azeri 9.Mobil
dubl po redu 67.3 / triling po redu 237.3
hipo kare po redu 1408.5
``It's a beautiful race,'' trener Paulo Lobo (Pico Central) ``I think it's the toughest race of the year so far.'
``I don't think she ran the race that we've seen her train for, for whatever reason,'' trener D.Wayne Lukas, koji je preuzeo Azeri' posle otkaza Laure de Seroux koju je otpustio vlasnik Michael Paulson. ``I don't regret what we did. We took a shot daring to be great.''
``Everyone's been telling me from Day One he's a miler,'' trener Barclay Tagg (Funny Cide, 6. poraz u 8 startova posle pobede u Preakness Stakes 2003). ``Sometimes, you have to prove it to everybody.''
Triple Crown 2004 >>


$500,000 "Pimlico Special" 1.900m
1.Southern Image (V.Espinoza) 1:55.89 2.9
2. Midway Road (R.Albarado) 11/4d
3. Bowman's Band (R.Dominguez)
4. Evening Attire (E.Prado)
5. Dynever (C.Nakatani)
6. Ole Faunty (P.Day)
Funny Cide nije startovao (fav 1.5 uz Dynever)
dubl po redu 17.0 / triling po redu 125.4
hipo kare po redu 168.4
Šesta pobeda u sedam startova za Southern Image, lakše nego što govori margina od 11/4d. Da podsetimo da je Southern Image bio i naš tip za ovu trku, iako su svi očekivali revanš Funny Cide i Midway Road iz prošlogodišnjeg Preakness Stakes, kao i Dynever-a koji tokom čitave trke nije bio "u igri".
``That was quite a stretch duel,'' džokej Espinoza ``I didn't know when we would go by, but I had confidence we would. I thought I had the best horse and that's why I didn't want to move too soon.''
Hollywood Park: $150,000 "Marvyn Le Roy H." 1.700m bet4fun
1. Even the Score (D.Flores) 1:40.8 6.0
2. Ender's Shadow (M.Ruis)
3. Total Impact (CHI) (M.Smith)
4. Olmodovar
5.Buckland Manor 6.Gift of the Eagle 7.The Eden (ARG) 8.Star Cross (ARG)
dubl po redu 40.5 / triling po redu 215.2 / hipo kare po redu 1543.7
Congaree (Arazi-Mari's Book) završio karijeru. U 25 startova, od kojih 22 uzastopna starta u stakes trkama, zabeležio je 12 pobeda, od kojih 5 Gr-1, na distancama od 1.200m do 2.000m uz zaradu od $3,267,490. Dva puta je uzastopno dobio prestižnu "Cigar Mile" (2002,2003), "Swaps" (2001), i "Hollywood Gold Cup" (2003) i "Carter Handicap" (2003). Poslednji start je imao 1.maja kada je stigao drugi u Gr-2 "Churchill Downs Handicap". Još se ne zna gde će biti smešten kao pastuv."Congaree has provided all of us with great moments in racing," vlasnik Robert McNair. "Janice and I will miss seeing that fluid speed of his that was so overpowering. After 25 starts, including 22 consecutive graded stakes races, he is still sound and a beautiful physical specimen, but he has informed us that he is ready to go to stud, and we believe the decision should be and is his."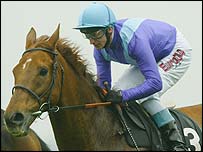 Persian Punch (11) uginuo je od srčanog udara kada je pred tribinama kolabirao pošto je povučen pred kraj trke na dve milje u Ascot-u. Ovaj srčani trkač poznat po start-cilj stilu je u karijeri ubeležio 20 pobeda, poslednja velika je bila Jockey Club Cup prošlog oktobra. Među pobedama su i Goodwood Cup (2001, 2003) i Henry II Stakes (1997, 1998, 2000). Prošle godine Racing Post ga j eproglasio za konja godine. "He was the most wonderful horse to train. It's so very sad" trener David Elsworth. "I think everybody loved him because he was a fighter," trener Martin Dwyer
startovi/pobede: 63/20 zarada: £1,008,785

Ultimatebet.com 1,000 Guineas Stakes
Newmarket Gr-1 1.609m
1 Attraction (K Darley) 11-2
2 Sundrop (K McEvoy) 16-1
3 Hathrah (R Hills) 6-1
16 grla ½l, ½l.

Ultimatebet.com 2,000 Guineas Stakes
Newmarket Gr-1 1.609m
1 Haafhd (R Hills) 11-2
2 Snow Ridge (L Dettori) 8-1
3 Azamour (M Kinane) 25-1
14 grla Dist: 1¾l, 1l.

Kentucky Oaks $572,000 Gr-1 1.800m 3g.
1. Ashado (R.Velasquez) 1:50.8 3.3
2. Island Sand (T.J.Thompson)
3. Madcap Escapade (J.Bailey)


4.VictoryU.S.A. 5.HollywoodStory 6.A.P.Adventure 7.StellarJayne 8.HouseofFortune 9.LastSong 10.SilentSighs 11.ClassAbove

Keeneland $325,000 "Lexington Stakes" 1.700m 3g.
1.Quinton's Gold Rush (J.Bailey) 1:43.82 6.7
2.Fire Slam (P.Day) 23/4d
3.Song of the Sword (N.Arroyo Jr)
4.Pomeroy
5.DashboardDrummer 6.ElPradoRob 7.SaratogaCounty 8.TotallyPlatinum 9.TigerHeart 10.Gamblin 11.Bride'sBestBoy 12.Suave 13.RaceforGlory 14.Boomzeeboom
Dubl po redu 41.9 / bez reda 17.0
Triling po redu 142.7
Hipo Kare po redu 942.4
Pred rekordnih 31,028 gledalaca, Quinton's Gold Rush je obezbedio mesto među 20 za KyDerby 1.maja. Ovo mu je druga pobeda u pet startova i prva od kako je u treningu kod Steve Asmussen-a.

Pred Kentucky Derby... Sve su prilike da će biti puna start mašina za trku ruža. U tom slučaju će statovati prvih 20 po zaradi u trogodačkoj sezoni. Poslednji put to se dogodilo 2002 (usled kasnog brisanja startovalo je 18), a pre toga još 1994. Možda kao nikada do sada nema tako jasnih favorita, veliki broj grla ima realnih šansi. The Cliff's Edge je i pored 14 dužina zaostatka u finišu dobio "Blue Grass" i to solidnim vremenom(24.6 / 12.4) u poslednjih 600m. Kent Desormeaux će jahati Imperialism. Victor Espinoza sa Imperialism prelazi u sedlo Borrego za derbi. Read the Footnotes ima veliku pauzu. Smarty Jones je smešten na Lexington-u umesto na Churchill Downs zbog buke usled radova na rekonstrukciji tribina; pobedu u "Arkansas Derby" je priveo kraju odličnim vremenom(12.6) u poslednjih 200m po toga dana očajno sporoj stazi. Trećeplasirani u istoj trci, Pro Prado, biće neče biti zvezda 1.maja pre trke, a imao je odlična vremena po frakcijama (22.6,24.2,24.8,25.2 i 12.6). Wimbledon i Preachatthebar menjaju jahača, Baffert nezadovoljan činjenicom da Javier Santiago ima poslednja dva poraza sa njima. Ovaj drugi ima šansi da uđe među 20 jer se očekuje da će Value Plus i St.Averil biti pisani za neku drugu trku na dan derbija. Quinton's Gold Rush je dobio Lexington samo dve nedelje pred derbi i samo dve nedelje posle Santa Anita Derby-ja, te će imati tri teške trke u četiri nedelje. Tapit po rečima vlasnika je mnogo vredniji zdrav nego da trči ukoliko se odista nije oporavio, uprkos trijumfu u "Wood Memorial" (što svakako pozdravljamo). Omaleni Master David je čvrst u finišu, bez obzira je li u pitanju veliki alati Borrego ili još veći alati Eddington; oba puta se iznutra provukao pored nih i bio bolji, a njegov niz drugih mesta prati šablon velikih derbi pobednika (Funny Cide, Monarchos, Real Quiet, Silver Charm, Grindstone, Go for Gin). Ukoliko Eddington ne uđe u derbi, koliko će biti velikih tih par centimetara zaostatka u cilju iza Master Davida ("Wood" Tapit-Master-Eddington u pola dužine)? Lion Heart je izgubio poslednje dve trke za vrat u poslednjim metrima na 1.800m, ima li šansi u dugačkom pravcu Churchill Downs-a na 2.000m? Toliko još pitanja, ali odgovora nema...

Keeneland aukcija - 13.april -
Dvogodac od Pulpita $3,3M. Ovo je druga najviša cena za dvogoda grla u treningu, rekord drži ždrebac od Fusaichi Pegasus-a koji je u februaru prodat za $4,5M u Calder-u.

Keenland $750,000 "Blue Grass Stakes" 1.800m 3g.
The Cliff's Edge, opravdao je poverenje kao naš tip no.1 u "Blue Grass Stakes" za pola dužine ispred favorita Lion Heart-a
bet4fun wintermezzo
1.The Cliff's Edge (R.J.Sellers) 1:49.42 7.7
2.Lion Heart (M.Smith) 1/2d
3.Limehouse (J.Santos) 6d
4. Mustanfar (R.Migliore)
5.Breakaway 6.ActionThisDay 7.Preachinatthebar 8.That'sAnOutrage
dubl po redu 20.4 bez reda 7.4 / triling po redu 80.2 / hipo kare po redu 474.8
Nick Zito kao trener po treći put dobija "Blue Grass": Strike the Gold (1991) koji mu je doneo prvu od dve pobede u KyDerby-ju i Halory Hunter (1998). Tako se pridružio kratkoj listi trenera koji su po tri puta dobili ovu trku: Woody Stephens, Ben Jones i LeRoy Jolley. Nijedan trener nije slavio četiri puta. The Cliff's Edge je kupljen u Keenland-u na aukciji za $200,000 septembra 2002 i siguran je učesnik trke ruža 1.maja...

Aqueduct $750,000 "Wood Memorial" 1.800m 3g.
Tapit konačno "proradio" i u samom cilju "uhvatio" našeg favorita za prvo mesto - Master David-a
1.Tapit (R.Dominguez) 1:49.70 6.3
2.Master David (A.Solis)
3.Eddington (D.Bailey)
4.Swingforthefences 5.RoyalAssault 6.ValuePlus, 7.LittleMatthMan 8.Cuba 9.Consecrate 10.SinisterG 11.Hornshope
Tri od poslednja četiri pobednika "Wood Memorial" su dobili i "Kentucky Derby". Ako uspe u tome, Tapit će biti prvo grlo posle Sunny's Hello (1983) koje je dobilo KyDerby sa samo dva starta u trogodačkoj sezoni...

Oaklawn Park $1,000,000 "Arkansas Derby" 1.800m 3g.
Smarty Jones(1) i Borrego(2) kao i u našoj prognozi u cilju "Arkansas Derby"
1.Smarty Jones (S.Elliott) 1:49.41 2.0
2.Borrego (V.Espinoza)
3.Pro Prado (J.McKee)
4.HarvardAvenue 5.Purge 6.MamboTrain 7.Shadowland 8.EveryAdvantage 9.Mr.Jester 10.TrickyTaboo 11.Hasslefree
Smarty Jones (Arkansas Derby) je jedini neporaženi derbista (6-6). Seattle Slew (1977) je jedini koji je neporažen osvojio triplu krunu. Ukoliko Smarty Jones dobije KyDerby, sledi mu bonus od $5,000,000 koji je vlasnik Oaklawn Parka Charles Cella ponudio za pobede u "Rebel", "Arkansas Derby" i "Kentucky Derby". Istovetan iznos već godinama nudi i Visa pobedniku triple krune, ali bez uspeha. "Pametnjaković" ima deset miliona malih razloga da ponovi uspeh Seattle Slew-a. Tu je i jedan veliki, najveći: upisati svoje ime među takva kao što su: Sir Barton, GallantFox, Omaha, WarAdmiral, Whirlaway, CountFleet, Assault, Citation, Secretariat, Seattle Slew i Affirmed. >>

$750,000 "Santa Anita Derby" 1.800m bet4fun
1.Castledale(IRE) (J.Valdivia) 1:49.24 31-1
2.Imperialism (V.Espinoza)
3.Rock Hard Ten (D.Flores)
Distanciran sa 2 na 3 zbog ometanja grla Imperialism
4.Quinton's Gold Rush
5.Wimbledon 6.St Averil 7.Lucky Pulpit
``This was the toughest Derby prep yet,'' suvlasnik Frank Lyons``There's no standout this year, and that's why we're there.''
``This is what the people love to see, a 30-1 shot,'' džokej Valdivia
dubl po redu 157.4-1 / bez reda 57.8-1
triling po redu 815.6-1
Silver Charm(1997) i Real Quiet(1998) su bili drugoplasirani, a Charismatic(1999) četvrti u SA Derby-ju pre nego su dobili Kentucky i Preakness. Poslednji koji je dobio SA Derby i osvojio trku ruža je bio Sunday Silence(1989).

$500,000 "Illinois Derby" 1.800m 3g.
1.Pollard's Vision (Eibar Coa) 1:50.4 / 2d
2.Song of the Swords 3.Suave
Ne treba smetnuti sa uma da je ovu trku kao pripremu za Kentucky dobio tada malo poznati War Emblem(2002).

$500,000 "Apple Blossom Stakes" 1.700m
1.Azeri (Mike Smith) 1:41.1 / 11/2d
2.Wild Spirit 3.Star Parade
Azeri(6g.) je po treći put zaredom dobila ovu trku

$200,000 "Excelsior Breeders' Cup" 1.800m Aqueduct, NY
Funny Cide ispred Evening Attire u cilju u vremenu 1:49.57 po teškoj stazi. Ovo mu je bio prvi nastup pred domaćom publikom posle poslednje etape triple krune 2003 u Belmontu, kao i prva stakes pobeda posle Preakness Stakes u 2003. Sledeći start mu je planiran za 14.maj u Baltimoru u "Pimlico Special", dan pre druge trke za ovogodišnju triplu krunu.
``I was very afraid of Evening Attire,'' džokej Jose Santos ``Funny Cide saw Evening Attire coming and went on strong. It was a great race. He needed to win to make the New York people happy.''

Dubai world cup 2004 kompletni rezultati svih sedam trka>>
Kao i u Breeders' Cup Classic-u 2003, Pleasantly Perfect - Medaglia d'Oro 1-2. Na ulazak u pravac Medaglia d'Oro je imao prednost, ali je Pleasantly Perfect opet spolja finiširao i došao do $3,6M prve nagrade, tako da dobio back-to-back dve najskuplje trke na svetu ukupnog fonda od $10,000,000. Bravo!



Sheema Classic / Duty Free / World Cup
Official press release >>
Dubai World Cup "It is incredible to have won this race, it is a dream come true and we are going to celebrate on the way home and for the rest of the year. It was a dog fight all the way down the stretch. I wanted to make sure Medaglia D'Oro didn't get away from me, he tried to come back but luckily I had enough in my hand. When I cracked him 100 metres to the post he took off again. He looks so beautiful he's shiny and happy." džokej Alex Solis
Dubai Duty Free "It feels super I have watched this race meeting before on TV and dreamt about just taking part here and now with winning this is a dream come true. I am sure going to sleep quite nicely on the plane on the way home." džokej Eduardo Pedroza
Prisetite se: Dubai World Cup 2003 >>
Wyn Dot Comma, pobednik "Swale Stakes" >> koji je ujedno bio i 5,000. pobeda za Edgara Prada, uspavan je posle preloma prednje noge na treningu. "I don't know exactly what happened, it all transpired so quickly," trener Marty Wolfson. "He has always had a problem with his feet but never anything else. And he'd been training better than ever recently. The track was a little deeper than usual at the time the injury occurred. I guess he just took one misstep." Wyn Dot Comma je u 8 startova zabeležio 6 pobeda, među kojima je i "Spectacular Bid Stakes". Biće sahranjen na svojoj farmi Davie, Florida.
$500,000 "Lane's End Stakes" 1.800m 3g.
Sinister G (17.4-1) priredio veliko iznenađenje u $500,000 "Lane's End Stakes" start-cilj pobedom. Samo na trenutak je That's an Outrage (prava reč?) imao malu prednost u trci. Ubedljivi favorit Birdstone nije ni primećen u trci i došao je u cilj kao peti i inače sporoj trci po laganoj kiši. Da igra rečima bude dosledna potrudio se drugoplasirani Tricky Taboo 11/2d iza prvoplasiranog koji je 1.800m prešao u vremenu 1:50.71. Sinister G je u vlasništvu i treningu porodce Toscano,pa je radost utoliko veća.
``I was a little concerned once it was sealed,'' džokej paul Toscano ``I thought the strategy had to change. I had the lead, so that was fine.''
$500,000 "Lane's End Stakes" 1.800m 3g.
1. Sinister G (Paul Toscano) 17.4-1
1:50.6 11/2d
2.Tricky Taboo 3.Little Matth Man 4.That's an Outrage
5.Birdstone 6.Hasslefree 7.Tap Dancing Mauk 8.Stolen Time 9.New Element 10.Hippocrates 11.Silver Minister
kvote na kladionici
pobeda 17.4 / dubl po redu 588.0
triling po redu 7,405.8
hipo kare po redu 53,424.1
Best Mate osvojio i treći "Gold Cup" Best Mate je u neizvesnoj završnici za glavu bio bolji od Sir Rembrandt-a, kao treći je došao Harbour Pilot. "We had to take the gamble and at times I wasn't getting the best of runs" džokej Jim Culloty "It was a nightmare,I walked the course beforehand and the best ground was on the inside."
Trostruki pobednici:Best Mate: 2002-04, Arkle: 1964-66, Cottage Rake: 1948-50, Golden Miller 1932-36
www.cheltenham.co.uk
Hardy Eustace(33-1) pobedom sa pet dužina prednosti u "Champion Hurdle" na dve milje iznenadio favorita i prošlogodišnjeg pobednika Rooster Booster-a trećeg dana festivala u Cheltenham-u. U sredu se trči "Gold Cup" u kojoj se očekuje odbrana trofeja Best Mate, koji bi u tom slučaju bio prvo grlo posle legendarnog Arkle koji je 1966. po treći put pobedio u glavnoj trci festivala. Posao će mu biti olakšan utoliko jer je njegov glavni rival Jair du Cochet eutanaziran prošle nedelje posle preloma noge. www.cheltenham.co.uk
$250,000 "San Felipe Stakes" 1.700m 3g.
Prvi favorit i Eclipse Award juvenile top male Action This Day je u prvoj krovini u gužvi zadobio posekotinu i u cilj ušao tek sedmi u trci od devet grla. Preachatthebar u treningu kod Bafferta je u uzbudljivoj završnici za nos bio bolji od StAveril u vremenu 1:42.87. Ovo je prvi stakes pobednik među potomcima velikog Silver Charm-a(KyDerby, Preaknes 97/ Dubai World Cup 98). Izgleda da je od tate nasledio ne samo boju i brzinu, već i manir da trke dobija ili gubi "za dlaku". Vlasink grla čudnog imena Mike Pegram ima običaj da grlima daje imena koja su povezana sa crticama iz njegovog života: Loveontherail (po noćnom susretu sa izvesnom damom na pruzi koji je prekinut od strane pozornika), Silverbulletday (omiljena marka piva), Icecoldbeeratreds (omiljeno mesto ispijanja piva), Captain Steve (policajac koji ga je u Louisvill-u spasao nevolja pošto je zaustavljen sa punim pištoljem u prtljagu na aerodromu). Majka Preachatthebar je Holy Nola koja je dobila ime po šankerici Noli Ferraro u klubu u Santa Aniti gde se Baffert i Pegram "druže" godinama i za koju Baffert kaže da kada vam ona natoči piće ujedno dobijete i mali blagoslov. Otuda i ime pobednika Preachatthebar. Ferraro je obustavila točenje pića tokom proglašenja pobednika trke i iz kecelje izvukla dobitni tiket (9.6-1) na svog "štićenika". Baffer sada sa Preachatthebar i Wimbledon ima respektabilan par za Kentucky...
$300,000 "Santa Anita Oaks" 1.700m 3g. ž.
Silent Sighs(7.7-1) za 11/2d bolja od Halfbridled, dok je A.P.Adventure treća. Silent Sighs ispred favorita Halfbridled dobila $300,000 "Santa Anita Oaks" 1.700m u vremenu 1:42.84. Do danas neporažena Halbridled je Eclipse Award best 2yo female za 2003. Najverovatnije da će se ove omice ponovo sresti u $500,000 "Kentucky Oaks".
``This filly is very green and very awkward because she's very big,'' trener Canani ``But she's also very talented.''
``I knew I was beat when we turned into the stretch,''G.Stevens koji je jahao Halfbridled. ``That other filly wasn't stopping.''
$1,000,000 Florida Derby 1.800m 3g.
1. Friends Lake 38.4-1
(R.Migliore) / 1:51.38 3/4d
2.Value Plus (J.Velasquez)
3.The Cliff's Edge (S.J.Sellers)
4.Read the Footnotes (J.Bailey)
5.Farnum Alley 6.Tapit 7.Smoocher 8.Sir Oscar 9.Frisky Spider 10.Notorious Rogue
Očekivani duel u finišu Readthefootnotes i Value Plus je pokvario Friends Lake furioznim finišem spolja. Poput Funny Cide, Friends Lake je prvi put potrčao u trci samo za grla NY odgoja...
``I've said if he ran his `A' race here he might not need another and we'd go right to the Derby,'' trener Johnn Kimmel
``He runs better on the outside,'' jahač Richard Migliore ``At the quarter pole I still wasn't all into him, but at the eighth pole I really set him down and he got the job done. I was really impressed with him.''
$150,000 "Swale Stakes" 1.400m 3g.
1 Wynn Dot Comma 5-1
(E.Prado) 1:22.87
2.Eurosilver (J.Castellano)
3.Dashboard Drummer (R.Dominguez)
Wynn Dot Comma ispred Eurosilver-a doneo 5,000. pobedu za Edgara Prada.
Tabasco Cat, pobednik Preakness & Belmont Stakes 1994, uginuo je iznenada u Japanu u 13.godini. na farmi Shizunai Stallion Station. Sin Storm Cat-a je i u Preakness-u i Belmontu tukao pobednika KyDerby-ja Go for Gin. Malo mu je nedostajalo da osvoji i "BC Classic" te godine. Na kraju trogodačke sezone je povučen u priplod sa 8 pobeda u 18 startova i zaradom $2,347,671. Dao je 4 stakes pobednika u SAD pre nego je prodat u Japan za $7,000,000.
Jockey Club je suspendovao na 21 dan jednog od vodećih jahača Britanije, Kieren Fallon-a zbog optužbe sudija na stazi da je namerno izgubio trku prošlog utorka. Iako je na ulasku u pravac imao 10 dužina prednosti na grlu Ballinger Ridge (15-8), u cilju je bio "kratak" za glavu iza grla Rye (11-8). Zanimljivo je da su primećeni "čudni" kasni ulozi na grlo Rye pred sam start trke, te je ovo grlo bilo nenadani favorit trke. Kieren Fallon je 6 puta u poslednjih 7 godina osvajao tituliu šampiona džokeja u Britaniji, dva puta je dobio engleski Derby (Oath 1999 i Kris Kin 2003), dok je 1994 bio suspendovan na 6 meseci zbog obaranja drugog džokeja u toku trke. "Having watched the race countless times, I still firmly believe it was an error of judgement by Kieren" trener Andrew Balding >>>>> Ballinger Ridge, grlo koje je jahao Kieren Fallon u spornoj trci, dobilo je trku na istoj stazi u Lingfield Parku na 2.000m sa 31/2d prednosti kao prvi favorit 4-5 na kladionici. Ovo mu je prva pobeda u 20 startova. "It's making our lives hard" džokej pobedničkog grla Martin Dwyer "Everybody's cynical these days. Unfortunately, we can't talk to anybody now - we are afraid to answer the phone these days."
$600,000 "Louisiana Derby" 1.700m 3g.
1.Wimbledon S.Javier (1:42.71)
2.Borrego 3.Pollard's Vision 4.Breakaway 5.Fire Slam 6.Stolen Time 7.Shadowland 8.Gradepoint 9.Shaniko 10.Indian War Dance 11.Nightlifeatbigblue
Drugo vreme posle 1:42.60 Crypto Star 1997
>>``If he can run 1-2-3,'' he'd move forward on the Kentucky Derby trail" izjava trenera Bafferta pre trke
>>"It's seems like he's got big hands and I thought I'd take a chance on him," Baffert said. "When you get to this level, you have to make your own breaks." raspoloženi Baffert posle trke
>>"We knew he was a great race and we thank Bob for getting us here," vlasnik Ian McIngvale
$1M "Santa Anita Handicap" 2.000m 4+g.
1.Southern Image V.Espinoza (2:01.64)
2.Island Fashion 3.Saint Buddy 4.Olmodovar 5.Toccet 6.Buddy Gil 7.Royal Place 8.Star Cross (ARG)
Southern Image i Victor Espinoza dobili dve trke back-to-back od $1,000,000 istog sastanka u Santa Aniti ("Sunshine Millions Classic"/"Santa Anita Handicap") Machowsky, vlasnik Southern Image, radio je pet godina kao pomoćnik kod Mandelle, trenera Island Fashion koja je jedina omica uz Next Move (1951) i Gamely (1969) koja se plasirala na drugo mestu u Big Cap. Nijedna do sada nije pobedila...
>>``There is no cheating horsemanship with training horses,'' vlasnik Machowsky. ``You have to manage them accordingly."
$200,000 "San Rafael Stakes" 1.609m 3g.
1.Imperialism V.Espinoza (1:36.11)
2.Lion Heart 3.Consecrate 4.Quintons Gold Rush
Imperialism je nominovan za Triple Crown
>>``Even though we got something special here, it's still a fantasy and we got to treat it as such,'' vlasnik Steve Taub o nadama za Kentucky Derby ``But I'm afraid now that other people are going to be talking a lot more about the fantasy. What a fantasy it is.''
$500,000 "New Orleans Handicap" 4+g. 1.800m - nedelja 29.februar
Peace Rules je drugo grlo koje je dobilo "Louisiana Derby" i "New Orleans Handicap" godinu za godinu. Pre njega u tome je uspeo Master Derby 1975-76. U pet međusobnih okršaja, Peace Rules je tri puta odneo pobedu, a Funny Cide dva puta.
1.Peace Rules (Jerry Bailey) 1:48.61/1.800m
2.Saint Liam 3.Funny Cide 4.Seattle Fitz 5.Ten Most Wanted
$4,5M za sina (2g.) Fusaichi Pegasus-a (KyDerby 2000) na aukciji Fasig-Tipton. Kupac je Fusao Sekiguchi, koji je 1998 kupio i Fusaichi Pegasus-a(od Mr.Prospector-a) kao jarlinga za $4M.
Be My Guest, sin Northenr Dancer-a >> i najbolje 3g. omice 1965 What A Treat, uginuo je u 30. godini. Kupljen je kao jarling 1975 za rekornu sumu od 127,000Gui. Dobio je (Gr-2) Waterford Crystal Mile, (Gr-3) Blue Riband Trial/Engleska i (Gr-3) Desmond Stakes/Irska. Karijeru pastuva je otpočeo 1978. i već i prvoj generaciji dao takve potomke kao što su: Assert(šampion Francuske), On the House(1000 Guineas) Anfield i What A Guest (grup pobednici). Već 1982 je postao broj jedan na listi pastuva u Engleskoj i Irskoj. Među najpoznatijim potomcima su: Go and Go (Belmont 1990) i Pentire (2 x šampion Engleske i šampion Irske), kao i šampione Francuske, Nemačke i Švajcarske. Do kraja dao je ukupno 24 generacije, koji su ukupno zaradili preko $29,5M.
Hard Buck je u poslednja da skoka došao do pobede ispred favorita Balto Star-a >>/>>/>> u $190,000 "Gulfstream Breeders' Handicap" 2.200m u vremenu 2:15.2. Pobedničko grlo je brazilskog odgoja sa 5 pobeda u Brazilu, a po dolasku u SAD ima tri pobede( sve stakes) i potomak je konja godine 1985 Spend A Buck >>. U 13 startova zabeležio je 9 pobeda, a ukupno 12 puta je bio plasiran. Drugim mestom, Balto Star je premašio $2M ukupne zarade. Na treće mesto se plasirao Kicken Kris.


In action: Kitten's Joy / Private Emblem / Fun House
Fun House (5g.) konačno do pobede u $150,000 Gr-2 "Buena Vista Handicap", Santa Anita. Distancu od milje je prešla u vremenu 1:36.0. Ovo je njena peta pobeda u 21 startu, ali je na kladionici "stajala dosta visoko" (12-1) posle dugog niza plasmana na 2. i 3. mestu bez pobede. Njena ukupna zarada do sada: $370,668.
Kitten's Joy (Jerry Bailey) dobio $100,000 Gr-3 "Palm Beach Stakes", Gulfstream.
Private Emblem (Timothy Doocy), dobio "Essex Handicap", Oaklawn Park - Hot Springs, Arkansass.

Santa Anita 21.februar 2004 Unfurl the Flag je istrčao vreme 1:20.0 na 1.400m i izjednačio rekord koji drži čuveni Spectacular Bid >> postavljen još davne 1980.
Second of June je zadobio lakšu frakturu prednje noge u finišu "Fountain of Youth" kada je stigao drugi. Nekih 30 minuta posle trke je postavljena dijagnoza i odmah je obavljena operacija. Sada, posle tri šrafa u nozi, san o triploj kruni je završen. Vlasnik Bill Cesare, nekadašnji NFL igrač kupio je Second of June svojoj majci za $7,500 a nedavno su odbili ponudu od $1M da ga prodaju: "Ne mislimo o triploj kruni, sada nam je samo drago da je konj OK". Inače, Cesare koji ga i trenira, rođen je istog datuma kao i Second of June po čemu je ovo grlo i dobilo ime.
A.P.Adventure (otac A.P.Indy konj godine '92) dobila $250,000 "Las Virgenes Stakes" u vremenu 1:36.5 na milju. U finišu je odbila napad Hollywood Story. Najbolje ocenjena omica Halfbridled je izostala iz starta i imaće prvi nastup ove godine u $300,000 "Santa Anita Oaks" 13.marta, gde će se najverovatnije susresti sa A.P.Adventure.
Read the Footnotes (J.Bailey) prvi u "Fountain of Youth" u vremenu 1:42.6 za vrat ispred Second of June u finišu, Silver Wagon treći, četvrti El Rob Prado. 5.Sir Oscar 6.Broadway View 7.Frisky Spider 8.Hopefortheroses
"This was a tremendous effort by the horse and a tremendous effort by Richie (trainer Richard Violette). You hope a hard race like this doesn't take too much out of your horse, but I know he'll be ready down the road." džokej Jerry Bailey
"This is horse racing. He doesn't know where he's foaled. He's 5-for-6, he's the real deal." trener Richard Violette
"Fountain of Youth" 15.februar 2003 >>
Top 10 favorita za Kentucky i njihov mogući sledeći start:
Eurosilver dobio 2 od tri starta u 2003 uključujući i Lane's End Breeders' Futurity, lako dobio prvu trogodačku sa 5 dužina na na 1.400m (Swale Stakes 13.mart)
Read the Footnotes* 4 pobede u 5 startova u 2003; u treningu 1:00.7 na 1.000m što je drugo vreme od 53 u treningu (Fountain of Youth 14.februar)
Birdstone>> dobio 2 od 3 starta u 2003 među kojima i Champagne u Belmontu, tek će imati prvi nastup kao trogodac, otac Grindstone (1996 KyDerby) (?)
Master David dobio Sham Stakes u drugom startu po dolasku iz Engleske gde je u 6 startova imao 2-3-1 (Florida Derby 13.mart)
Action This Day pobednik BC Juveniles i Eclipse Award 2yo male, 2 pobede u tri starta u 2003 i tek četvrti u Sham Stakes (Santa Anita Derby 3.april)
Lion Heart dobio sva 3 starta u 2003, među kojima je i Hollywood Futurity>> (San Rafael 6.mart)
Second of June* tukao dva puta SIlver Wagon u What a Pleasure Stakes i Holy Bull Stakes>> (?)
Halfbridled 2yo champ filly zbog kašlja izostaje iz Las Virgenes u nedelju (Santa Anita Oaks 13.mart)
Sir Oscar* neporažen u 6 startova>>, sve u Calderu, Florida (Fountain of Youth 14.februar)
Silver Wagon* oporavlja se posle povrede kopita u Holy Bull Stakes kada je bio drugi (Fountain of Youth 14.februar)
Master David (11-10) pobednik $81,400 "Sham Stakes" 3g. 1.800m u vremenu 1:49.2 sa 11/4d. Senzacionalni pobednik BC Juvelnile 2003 Action This Day (26-1) stigao četvrti.
Domestic Despute (14-1) foto-finiš pobedom u $300,000 "Strub Stakes" 1.800m prekinuo niz od osam poraza. Poslednju pobedu sin Unbridled's Song-a odneo je 18.januara 2003 u "Santa Catalina Handicap".
1.Domestic Despute (K.Desormeaux) 1:49.08 2.During 3.Buckland Manor 4.Midas Eyes
Donn Handicap: Medaglia d'Oro (desno) dobio "Donn Handicap". Trener Bobby Frankel je porazio Funny Cide sa tri grla do sada: Empire Maker, Peace Rules i Medaglia d'Oro. Ovo je 14 od 16 startova da je Medaglia d'Oro u prva dva grla u trci, od toga 10 zaredom...
1.Medaglia d'Oro (J.Bailey) 1:47.6 / 41/2d 2.Seattle Fitz (ARG) 31/2d 3.Funny Cide 4.Puzzlement 5.The Judge Sez Who 6.Country be Gold 7.Predawn Raid 8.Bowman's Band
"Donn Handicap" - istorijat: Prvi trkački sastanak na Gulfstream Parku je održan 1.februara 1939.godine. Održana su ukupno četiri trkačka dana, a potom su organizatori usled nemogućnosti daljeg finansiranja zatvorili hipodrom. Jedan od kreditora, James Donn Sr. je preuzeo trkalište. "Florida Derby" je ustanovljen 1952. sa najvećim nagradnim fondom na Floridi od $100,000. Danas je to trka ranga Gr-1 sa nagradnim fondom od $1M. Sedam godine kasnije, 1959 ustanovljen je "Donn Handicap" sa tada skromnim fondom od $28,000. Trka za starija grla danas privlači najbolje na pesku u SAD sa fondom od $500,000, kao i "Gulfstream Park Handicap" sa $300,000. Sa Donn-om su neraskidivo povezana takva imena grla, jahača i trenera kao što su: Cigar, Skip Away, Holy Bull, Spectacular Bid, Kelso, Forego, Bold Ruler, Nashua, Swaps, Sunny Jim Fitzsimmons, Woody Stephens, Jimmy Croll, Bill Mott, Eddie Arcaro, Bill Shoemaker, Bill Hartack, Jerry Bailey i Pat Day.
Pleasantly Perfect (6g.) (otac Pleasant Colony: Kentucky Derby, Preakness Stakes 1981>> >>) lako je sa 4 dužine dobio $250,000 "San Antonio Handicap" 1.800m u vremenu 1:47.25. Drugi je bio Star Cross, treći FleetstreetDancer, a tek četvrti drugi favorit Congaree. Ovo je sedma pobeda u 14 startova za Pleasanty Perfect sa zaradom $3,099,800 čiji bi sledeći start trebao da bude $1M "Santa Anita Handicap" 6.marta. Glavni cilj je start u $6M "Dubai World Cup >>".

Sunshine Millions: Santa Anita & Gulfstream Park - kompletni rezultati >>
Pat Valenzuela suspendovan na neodređeno zbog odbijanja doping testa. Tokom poslednje dve godine od povratka na stazu posle suspenzije povodom upotrebe narkotika, više puta je podvrgnut testu i svi nalazi su bili negativni. Valenzuela (41) je propustio ukupno oko pet godina usled suspenzija. Posle otpuštanja svog agenta (Nick Cossato), angažovao je bivšeg jahača Corey Black-a.
Pat Valenzuela, vodeći jahač u poslednjih pet sastanaka u Kaliforniji, otpustio je svog agenta koji ga je zastupao poslednje dve godine uspeha i povratka posle problema sa drogom., jer je ovaj 26.decembra preuzeo i jahanja Corey Nakatanija i to uz Valenzuelin pristanak. Valenzuela je osvojio titule najboljeg jahača tokom poslednjih pet sastanaka u Kaliforniji. Poslednji put je takav podvig načinio 1983.godine Chris McCarron. Inače, Valenzuela je upisan za grlo Continental Red u Sunshine Millions Classic.
Santa Anita: U svom trećem startu St.Averil je za dužinu bio bolji ispred Lucky Pulpit i slavio u $150,000 "Santa Catalina Stakes" na 1.700m u vremenu 1:41.4. Ovo je prva od pet pripremnih trka za Santa Anita Derby koji će se po 67.put trčati 3.aprila i koji predstavlja najznačajnini ispit za grla sa Zapadne obale pred 130. Kentucky Derby 1.maja.
Gulfstream: Second of June je dobio $100,000 "Holy Bull Stakes" 1.700m za 22/3 dužine u vremenu 1:43.0. Drugi je stigao Silver Wagon, Friends Lake. Trener Bill Cesare, inače bivši igrač NFL ekipe Tampa BayBuccaneers je vlasnik Second of June, kupivši ga na pogodbom prošle sezone i nameravao je da ga proda. "Srećom, predomislio sam se" - zadovoljan je Cesare. Grlo je od Louis Quatorze i ovo mu je druga stakes pobeda u nizu, a ukupna zarada do sada $174,800. Testovi Istočne obale za "trku ruža" su otpočeli...
Two-year-old colt: Lucky Story, Milk It Mick, Three Valleys
Two-year-old filly: Attraction
Three-year-old colt: Alamshar
Three-year-old filly: Airwave and Russian Rhythm
Older male horse: Hawk Wing
Older female horse: Islington
Sprinter: Oasis Dream
Miler: Hawk Wing
Middle-distance horse: Alamshar
Stayer: Bollin Eric and Mr Dinos
Champion apprentice: Ryan Moore
Champion jockey: Kieren Fallon
Champion trainer: Sir Michael Stoute
Champion owner: Khalid Abdullah
Horse Of The Year: Falbrav
Sa sjajnih pet grup pobeda u Prix d'Ispahan, Coral-Eclipse, Juddmonte International, Queen Elizabeth II Stakes i Hong Kong Cup-u, Falibrav proglašen za konja godine 2003
Gulfstream: Harmony Lodge po drugi put zaredom odnela start cilj pobedu u $100,000 Gr3 "First Lady Handicap" f&m 1:09.64 na 1.200m.
Santa Anita: During (5-1) i David Flores prvi u$221,800 "San Fernando BC Stakes" 4+g. 1.700m u vremenu 1:41.6. U jakom društvu During je do šeste pobede u 14 startova i ukupne zarade od $1,055,662 došao u pravcu ispred Toccet-a i Touch the Wire. Ovo je prva pobeda u ovoj trci za trenera Boba Bafferta od 1998 kada je najbolji bio famozni Silver Charm ('97 KyDerby, Preakness; '98 Dubai).
Santa Anita: Megahertz dobila $150,000 "San Gorgonio fillies&mares stakes" turf 1.800m u vremenu 1:49.4 ispred Garden In The Rain koju je jahao Gary Stevens. Ovom pobedom trener Bobby Frankel je ušao među četiri trenera sa 100+ pobeda u Santa Aniti.
Gulfstream: Wynn Dot Comma najbolji u$100,000 "Spectacular Bid Stakes" 3g. 1.200m u vremenu 1:10.6 sa 1 1/4 dužine ispred Saratoga County i Ghost Mountain.
Gulfstream: Funny Cide (KyDerby, Preakness) u prvom startu posle 25.oktobra u BC Classic-u kada je bio deveti, lako dobio slobodni handikap od $46,000 kao pripremnu trku za očekivani ' $500,000 "Donn Handicap" 7.februara. Tu će se najverovatnije sresti sa Medaglia dOro, drugoplasiranim u BC Classic-u 2002 i 2003, ujedno i finalistom za Eclipse Award older male, kao i sa Congaree, još jednim finalistom Eclipse Award (older male / sprint). "Nemamo planove za Dubai World Cup 2004. Nadam se da će trčati još 4 do 5 godina. Glavni cilj mi je da i dalje bude slavan i srećan..." Barclay Tagg - trener Funny Cide
Eclipse Award 2003 nominacije:
2m / Action This Day*, Birdstone, Cuvee
2ž / Ashado, Halfbridled*, Victory U.S.A
3m/ Empire Maker*, Funny Cide, TenMostWanted
3ž/ Bird Town, Elloluv*, Six Perfections(FRA)
4+m/ Mineshaft*, Congaree, Medaglia d'Oro
4+ž / Adoration, Azeri*, Sightseek
sprint/ Aldebaran, Cajun Beat*, Congaree
turf-m/ High Chaparral*, Johar, Storming Home
turf-ž/ Heat Haze, Islington*, Six Perfections(FRA)
trener/ Bobby Frankel, Richard Mandella*, Todd Pletcher
džokej/ Edgar Prado, Jerry Bailey, Patrick Valenzuela*
* bgturf tip

Gulfstream Park: Cajun Beat, pobednik u "BC Sprint 2003" je lako sa 21/2 dužine dobio $100,000 1.200m "Mr.Prospector Handicap" prvog dana sastanka na Gulfstream Parku, Florida u vremenu 1:09.06. Drugi je Gygistar a za njim su Deer Lake Voodoo, Wake At Noon i Multiple Choice. Ovo je treća uzastopna pobeda za Cajun Beat koji će najverovatnije sledeći start imati 7.februara u Gr-3 "Deputy Minister Handicap" na 1.300m.
Gulfstream Park: Puzzlement je za vrat bio bolji od štalskog druga Bowman's Band-a, u $100,000 "Hal's Hope Handicap" 1.700m. je lako sa 21/2 dužine dobio $100,000 1.200m u vremenu 1:42.39.Puzzlement (5g. od Pine Bluff)dobio je 6 od 21 starta i zaradio skoro $690,000. Oba grla su najavljena za Gr-1 "Donn Handicap" 7.februara.
Santa Anita: $150,000 "San Gabriel Handicap" 1.800m dobio Redattore (BRA) sa A.Solisom u sedlu u vremenu 1:48 (trava). Drugi je bio Continental Red (G.Stevens) dve dužine iza, a treći Denied. Ovo je peta pobeda u osam startova ove godine za ovo osmogodo grlo sa 15 pobeda u 32 starta u karijeri i ukupnom zaradom od $1,799,883.

Santa Anita: Island Fashion i Kent Desormeaux (10.4) dobili su u nedelju $250,000 "La Brea Stakes" za omice 3g. na 1.400m sa šest dužina u vremenu 1:21.79. Iza nje je kao druga u cilj ušla Randaroo, treća Buffythecenterfold. Elloluv(druga u BC Distaff 2003) je tek šesta. Island Fashion je u avgustu dobila "Alabama Stakes" - Saratoga a proletos "WinStar Oaks" - Sunland Park.
Santa Anita: Southern Image (14.7:1) je ubeležio prvu grup pobedu u $250,000 "Malibu Stakes" Gr-1 3g. 1.400m za glavu ispred najvećeg autsajdera na kladionici Marino Marini(13:1 u nagradi) koji je vodio do poslednjeg metra. Prvi ko-favorit Midas Eye (2.1:1) je bio treći za dužinu, a za njim su se plasirali Eye of the Tiger, Watchem Smokey, Domestic Dispute, Posse, Blazonry, Buddy Gil, Special Rate, Toccet i Zavata. Pobednik Santa Anita Derby-ja Buddy Gil je ovde imao prvi start posle 6.mesta u KyDerby-ju. Southern Image (Helo's Image) je do sada imao problema u više navrata sa povredom zadnje noge i sa ovih $150,000 ukupno je zaradio $231,600. Vreme pobednika je 1:22.65.
Santa Anita: Lion Heart dobio $382,000 "Hollywood Futurity" Gr-1 2g. 1.700m i kao neporažen dvogodac će biti 15. od 19 pobednika "BC Juvenile" koji su osvojili i Eclipse Award za dvogoda grla. Sa ovih $225,000 ukupna zarada ovog grla do sada je $310,800. Mike Smith je jahao pobednika koji je distancu od 1.700m je prešao u vremenu 1:42.8. Kao drugi 3 1/2 dužine iza je stigao St.Averil, pa zatim That's An Outrage, Quiet Cash i Saint Afleet.